This technical information has been contributed by
Apple Rubber Products
Click on Company Name for a Detailed Profile
Apple Rubber Receives ITAR Certification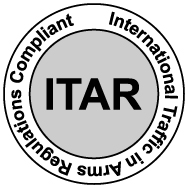 LANCASTER, N.Y.—Apple Rubber Products Inc. has earned ITAR (International Traffic in Arms Regulation) certification, which demonstrates that the company is a compliant manufacturer and supplier for the United States Munitions List (USML) and registered with the Directorate of Defense Trade Controls (DDTC).

"Having the ITAR certification is important because it gives the assurance to our customers that critical data will be protected when purchasing from our company," said John Tranquilli, Apple Rubber materials manager, in a company release. "This verification provides a secure supply chain to our top-level customers."

The federal government requires all manufacturers, exporters, and brokers of defense articles, defense services, or related technical data to be ITAR compliant and registered with the State Department's DDTC. The approval has been an important goal for Apple Rubber as it recognizes that the supplier and manufacturer adheres to the guidelines of USML and provides information protection for all customers.

Attaining ITAR compliance is a successful benchmark for manufacturing companies such as Apple Rubber, which recently also became TRAC (TRACE Registered Access Code) certified, demonstrating the company's participation in a global platform that captures, assesses, and shares due diligence information on companies committed to commercial transparency.
This technical information has been contributed by
Apple Rubber Products
Click on Company Name for a Detailed Profile